North West View in Summer 2008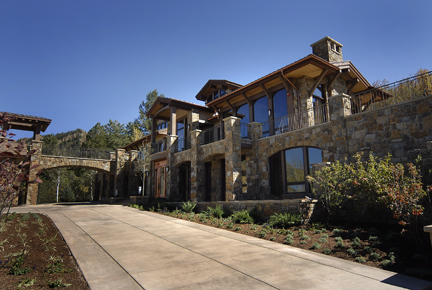 Looking up Driveway
Located close to top of a hill in Meadowood Subdivision this house commands stunning views of the mountains and the valley below. The main living areas are located on the middle floor to capitalize on this asset. Up to 4000 square feet of decks and patios extend out from this level in all directions to form outside living and entertaining areas. One of them extends out over the driveway in the form of a stone bridge to a view platform located over the studio.
The architecture borrows from a medieval Italian hillside town as it climbs up the hill and stretches across the driveway. Stone, stucco and heavy timbers give the exterior a warm old world feel and blends it into the natural surroundings.
The house is 5 bedrooms, 5 full baths, 3 half baths. There is a library/office off the great room. A wine room is located next to the formal dining room and a butler's pantry connects the dining room to the kitchen. The kitchen is combined with a large family room with it's own fireplace and walk out patio with BBQ. The master suite is located on the upper floor with great view of shadow mountain, smuggler and red mountains and hunter creek. The bedroom to the west has a view of Willow creek and the elk mountain range. In between there is a smaller office with a walk out deck. The lower level has a media room game room and two bedrooms along with laundry, mud room and garage. An elevator can connect all three levels. The studio is located across the driveway.
Pictures will be updated in summer 2009.